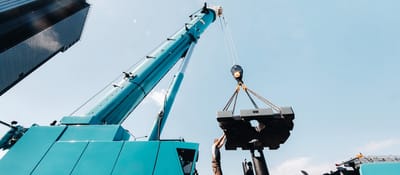 Our lifting equipment inspection is a detailed visual and operational inspection whereby individual lifting equipment items are examined to ensure their integrity and ongoing safe operation for lifting operations.
At ITC, we have the capability to inspect all fixed and loose lifting equipment types and provide the following related services: all crane types including Mobile, Gantry, Tower, Offshore Pedestal, Jib, Overhead Cranes and Hoists, all loose lifting tackle (slings, shackles, webbing .....etc.), all lifting machines (chain blocks, lever hoists, pulling machines, etc.), baskets, containers, skips, gas racks, and lifting frames, air winches, tuggers, and other similar units, padeyes, runway beams, swing jibs, lifeboat and life raft davit/deployment systems, forklifts, perform load test inspections compliant with international standards and codes, earth moving equipment inspection, test weights / water bags rental, lifting operations rigging and planning, and lifting/rigging training courses.
The main NDT inspection techniques used for lifting gear inspections are Eddy Current Testing, UTM, Close Visual Inspection, Magnetic Particle Testing, Load Testing, Bolt Testing, and others as required.
Our team of experts has the technical knowledge and experience required to deliver reliable and accurate lifting equipment inspection service